Used in this project
Products

Materials

Colours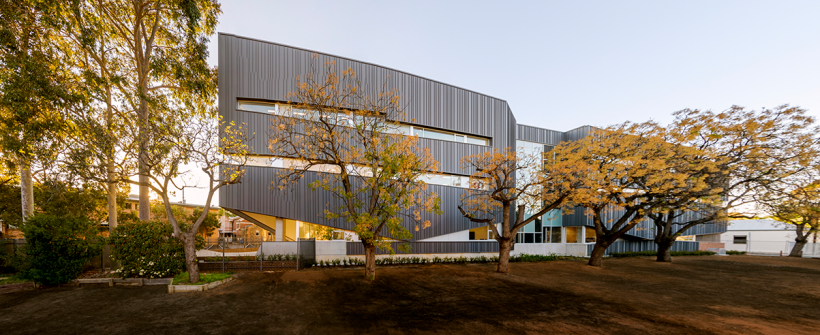 Designed by Grieve Gillett Andersen, the new Middle School building (Art, Science & Technology Building) at Pembroke School in Adelaide, South Australia features Fielders Finesse® Prominence™ made from COLORBOND® steel in Basalt® Matt.
The Project
Pembroke School is situated in the historic suburb of Kensington in Adelaide and sets a high standard in educational facilities and learning innovation. Architects, Grieve Gillett Andersen were given the challenge of designing a new Middle School Building which told a story about construction and innovation to inspire the next generation of builders, designers and innovators and where the building itself would be a topic of learning. 
The 'learning village' included diverse spaces for art, science and technology and required 2020m2 of wall cladding that would help to highlight the angular aesthetic of the structure and make the façade 'pop'. 
The Solution
Discussions between the architects and the contractor (SA Construct) led to the selection of Fielders Finesse® Prominence™ for the wall cladding. Apart from its contemporary good looks, Finesse Prominence™ is easy to install and stays true to form.  Grieve Gillett Andersen wanted to achieve the look of an 'industrial workshop' – a place of making and experimentation. The COLORBOND® steel Matt finish complemented the vibrant design and added an element of softness and depth of colour.
The design of Pembroke's new Art, Science and Technology Building posed an interesting challenge for Fielders. Normally, their cladding products are rolled out in single-width sheets and cut to length. The intricate triangulated specifications of this design meant they had to roll the profile in custom widths. Using the measurements from the CAD elevations, Fielders rolled the different width sheets and cut them to exact shapes by hand. They number-coded each piece and stacked them in assembly order. The idea was to provide the installers with a ready-made kit of Finesse® Prominence™, similar to a flat-pack concept to help make installation simpler. It may sound daunting, but all the installers had to do was start with the top piece of each section and work their way across the façade to the bottom.
Fielders delivered the 2020m2 of Finesse® Prominence™ cladding in 22 sections, comprising approximately 1,600 pieces in total and ranging in length from 260mm to 14m.
---
Awards:
2020 Australian Institute of Architects South Australian Chapter, COLORBOND® Award for Steel Architecture;
2020 Australian Institute of Architects South Australian Chapter, The Dr. John Mayfield Award for Educational Architecture;
2020 Australian Institute of Architects South Australian Chapter, Interior Architecture – Commendation;
2020 Australian Institute of Building Professional Excellence in Building Awards South Australian Chapter, Commercial Construction $1 Million to $25 Million - High Commendation;
2020 Australian Steel Excellence Awards presented by the Australian Steel Institute (ASI), South Australian award for Steel-Clad Structures.