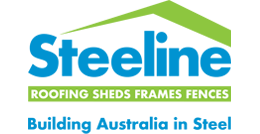 Steeline
Steeline is a national group of metal roofing and building specialists for residential, commercial and industrial, and rural buildings and projects.
Experienced and helpful staff, proven engineering, performance tested and all our products are made from genuine BlueScope steel, experience Steeline's promise of service over and above.
Steeline locally manufacture and distribute quality metal roofing, wall cladding, gutters, fascia, ridges, valleys, flashings, fencing, steel framing, purlins, sheds, garages, carports, patios, and rainwater products.
We can also supply a large range of accessory products for your project, including, insulation, fibreglass sheeting, polycarbonate sheeting, skylights, fasteners plus more.