Used in this project
Products

Materials

Colours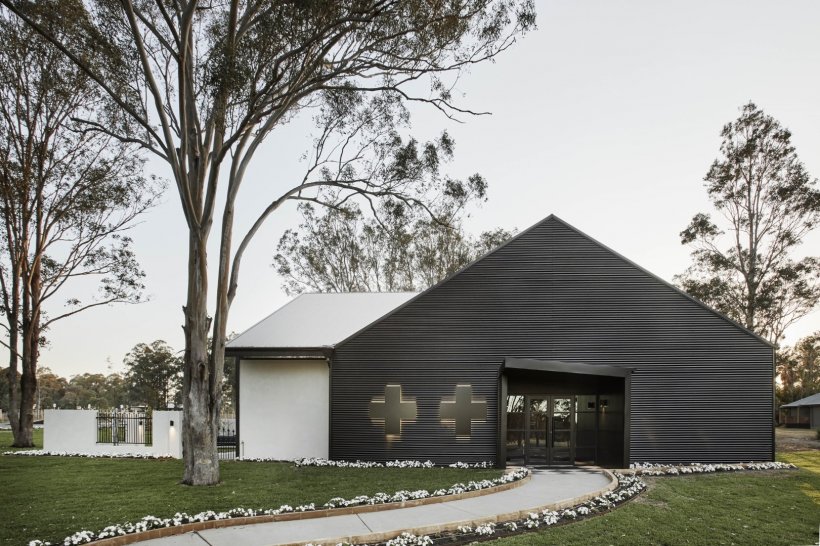 Introducing VAMP by Lisa McGuigan, a striking project that transcends the boundaries of conventional wine tasting experiences. The exterior cladding made from LYSAGHT WALLCLAD® in COLORBOND® steel Night Sky® reflects Lisa's love for all things dark and dramatic.
If we consider that the buildings we create are a reflection of who we are, then this project takes personal expression to the next level. Designed for Lisa McGuigan, whose family name is synonymous with winemaking in Australia, the cellar door experience at VAMP by Lisa McGuigan invites you into the world of this fourth-generation viticulturist.
Architect Dominic Warland, renowned for his innovative designs at Newcastle-based EJE Architecture, was entrusted with bringing Lisa McGuigan's vision to life, to create an immersive wine tasting experience that would surprise and intrigue guests in equal measure. Given Lisa's devotion to the colour black, the palette for this project was never in any doubt.
Although a DA for a barn-like building on the Pokolbin site had already been approved, the design was not hitting the brief. So Dominic, together with colleague and senior interior designer at EJE Architecture, Jodie Duddington, created wine-tasting spaces that captured Lisa's love of all things dark and dramatic.
Central to the design is a cathedral height tasting room, with a large circular bar in the middle designed to welcome groups small or large. To the western side of the main room, there's a private area large enough to host 20 guests, as well as two more separate tasting booths, while the eastern side offers a view of the courtyard garden and bushland through dramatic floor-to-ceiling height windows.
Entry is via a smaller, darker portal at the front of the building, deliberately designed to add to the drama of entering the main tasting area.
"One of my colleagues said from the street it looked like this little cute cottage in the woods in a mysterious colour," says Dominic. The design intent was befittingly dubbed 'Modern Medieval'. 
"Usually, it would be white, so it draws you in with its more mysterious doorway. Once inside, you emerge from the entry tunnel into this cavernous space."
A storeroom, boardroom, washrooms and kitchen for a seasonal oyster and champagne offerings complete the building to the rear.
The exterior is clad in LYSAGHT WALLCLAD® and CUSTOM ORB® made from COLORBOND® steel in the colour Night Sky®, in keeping with Lisa's black aesthetic. 
Dominic says choosing LYSAGHT products solved more than one dilemma facing this project. "It's a black building in Pokolbin where it can get up to 45C in summer so I was concerned that it would not be very thermally efficient," he says. "I thought 'How will we make the building more environmentally friendly?'."
The solution was a reverse brick veneer construction, with CUSTOM ORB® on the outside and brick on the inside. The resulting air pocket between the inner and outer 'skins' improves thermal comfort. "CUSTOM ORB® gave us texture and the colour the client wanted, as well as the thermal performance we were striving for," says Dominic.
Working with a single, dark tone like black meant texture and lighting played key roles in this design. From the snakeskin-like feel of the bar countertop and the chain mail style curtains for the booths to the matt black bathroom tiles and beautifully detailed joinery, materials have been selected to engage the senses, as well as their ability to catch or absorb the light. Dominic says Lisa understood immediately the importance of a sophisticated lighting plan to draw beauty from dark spaces.
"We spent a lot of time on lighting," he says. "The daytime light was special but the nighttime light was really special. The main drawcard is the chandelier by (Melbourne-based lighting designer) Christopher Boots, which was custom designed. "Lisa was willing to put money into things that go 'wow'. It was really exciting to have a client who understood that."
Local builder, PDA Building, started working on the building even before the design was complete. "We had a condensed building program over about nine months so we hadn't finished the designing stage when we started building," says Dominic. "It was good working with a builder that we trusted."
The result is a cellar door experience like no other. With a resolute commitment to her branding strategy and an unwavering passion for the colour black, Lisa McGuigan and Dominic Warland collaborated to conceive a space that captivates and surprises visitors in equal measure. VAMP by Lisa McGuigan seamlessly blends Lisa's distinctive aesthetic with the natural beauty of the surrounding bushland.