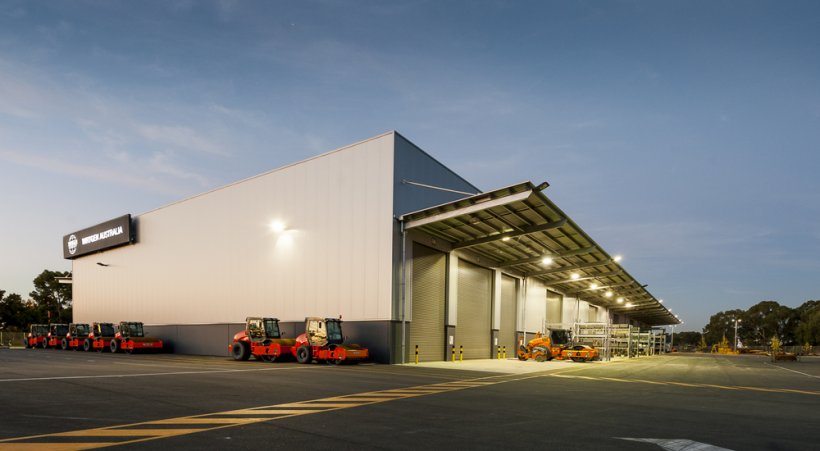 Mining and road construction machinery specialist Wirtgen required a brand new state of the art facility in Perth, Western Australia.

"With no exposed materials and continuous insulation under the roof where there is often a level of thermal shortage, Kingspan's insulated guttering, roof and wall panel systems working together as a whole, have more than met the standards for longevity, thermal and fire performance demanded by Wirtgen."

Project Architect
T&Z Architects
The Project
The new building is comprised of an office, sales component, warehouse and specialist service workshops for valuable, heavy-duty road construction and mining machinery. Australia's harsh climate influenced the design brief for this project. Wirtgen knew the building would need to have superior thermal and fire performance capabilities, as well as maximum design flexibility and efficiency. Kingspan panels were chosen for their ability to deliver on these key areas.
Superior Solutions
Due to all the heat and heavy rain that Western Australia experiences, Wirtgen needed a system that would be able to withstand such extreme conditions. Kingspan's insulated gutters were chosen due to their superior thermal performance and their ability to create an enhanced syphonic drainage system. These gutters are LPCB certified to LPS 1181 Grade EXT-B and offer U-values of 0.35W/m2K and 0.21W/m2K for 60mm and 100mm thicknesses respectively. The insulated gutters integrated with the Trapezoidal Roof, Mini-Micro and Ultra-Temp panels and provided the finishing touches to this building envelope.
Sustainable Future
Energy efficiency and sustainability are important factors for any industrial building. The Trapezoidal roof and Mini Micro panels installed on this project can achieve a Green Guide A+ rating. These panels can reduce business operation costs significantly and enhance sustainability measures.
Design Flexibility
The Trapezoidal Roof, Mini Micro and Ultra Temp panels, as well as the insulated gutters, can all be integrated to create one complete building solution. This enables total freedom at design level. Perth-based firm T&Z Architects was charged with sourcing the high performing materials for the new facility. The total compatibility of the Kingspan products provided the architects with a lot of choice. Kingspan worked closely with the firm to select panels which suited the requirements of the design brief and fully matched the vision of the project.