Stramit Monopanel® perforated panels provide an architecturally pleasing solution for ceilings and internal wall linings.
The aesthetic appeal of the Stramit Monopanel® perforated panel makes it ideal for architecturally significant spaces such as airport terminals, public halls, auditoria and sports venues. The flat-faced, uniform ribs and shallow depth of Stramit Monopanel® cladding add instant architectural style. Concealed fixing clips and interlocking panels provide a clean, professional finish, while the advanced design ensures reliability and ease of construction.
No visible fasteners
Simple interlocking panel and clip
250mm cover for quick installation
Lightweight high-tensile steel

Standard perforations leave an open area of approximately 11% of the cladding surface. Holes are 2.4mm in diameter and are pitched symmetrically to provide the best balance between appearance, ease of installation, cladding performance and potentially noise reduction. If other hole patterns are required, contact your local Stramit Technical Services Manager.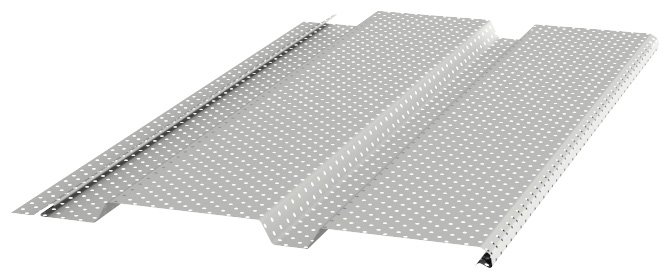 Contact Stramit
Product detail
Availability
ACT
NSW
NT
QLD
SA
TAS
VIC
WA
Product availability is indicative, contact Stramit directly to confirm availability.