Compatibility of Materials for Direct Contact and Drainage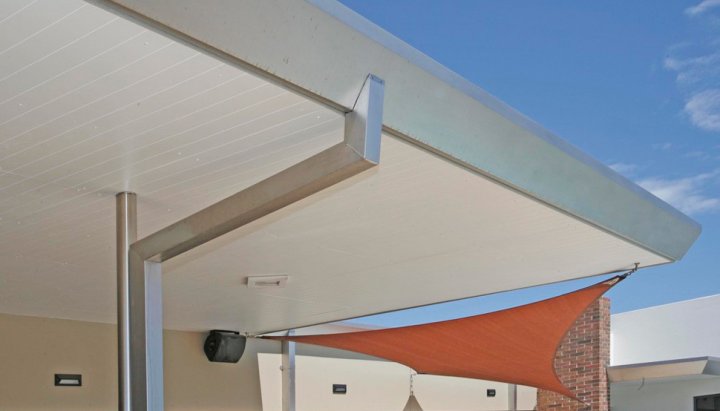 An important consideration in choosing materials for any project is whether those materials are compatible with each other from a corrosion perspective. In most builds, there are two key scenarios to consider: direct contact of materials (e.g. accessories and fasteners in contact with cladding) and drainage of water from one material to another (e.g. water running from a roof to a gutter or cladding).
The two tables below give clear guidance on the compatibility of building materials for direct contact and drainage scenarios.
For further information please refer to BlueScope Corrosion Technical Bulletins or contact BlueScope:
Compatibility of Materials for Direct Contact
 
Accessory or Fastener Material
Material
Zn-coated steel & zinc
Stainless Steel (300 Series)
AM-coated steel
Aluminium
Copper, Brass, Lead & Monel
Carbon Black**
COLORBOND® steel
Yes*
No
Yes
Yes
No
No
COLORBOND® steel Matt
Yes*
No
Yes
Yes
No
No
COLORBOND® Metallic steel
Yes*
No
Yes
Yes
No
No
COLORBOND® Ultra steel
Yes*
No
Yes
Yes
No
No
SUPERDURA® Stainless steel
No
Yes
No
No
No
No
TRUECORE® steel
Yes*
No
Yes
Yes
No
No
ZINCALUME® steel
Yes*
No
Yes
Yes
No
No
Zn-coated steel & zinc
Yes
No
Yes*
Yes*
No
No
* Inert catchment situation may apply

** As found in some washers, roof penetration flashings and black "lead" pencils etc.

Zn-coated steel = Zinc-coated steel, e.g. GALVASPAN® steel

AM-coated steel = Aluminium / Zinc / Magnesium alloy coated steel, e.g. ZINCALUME® steel, TRUECORE® steel
Compatibility of Materials for Drainage
 
Upper Cladding or Rainwater Goods Material
Lower Cladding or Rainwater Goods Material
Prepainted steel
Zn-coated steel & Zinc
AM-coated steel
Aluminium alloys
Stainless steel (300 series)
Copper & copper alloys
Prepainted steel
Yes
Yes
Yes
Yes
No
No
Zn-coated steel & Zinc
No
Yes
No
No
No
No
AM-coated steel
Yes
Yes
Yes
Yes
†
No
Aluminium alloys
Yes
Yes
Yes
Yes
†
No
Stainless steel (300 series)
†
†
†
†
Yes
†
Copper & copper alloys
†
†
†
†
†
Yes
† = Whilst drainage between the materials shown would be acceptable, direct contact should be avoided

Yes = acceptable

No = not acceptable

Prepainted steel: including COLORBOND® steel, COLORBOND® steel Matt, COLORBOND® Metallic steel, COLORBOND® Coolmax® steel, COLORBOND® Ultra steel, SUPERDURA® Stainless steel

Zn-coated steel = Zinc-coated steel, e.g. GALVASPAN® steel

AM-coated steel = Aluminium / Zinc / Magnesium alloy coated steel, e.g. ZINCALUME® steel