Used in this project
Products

Materials

Colours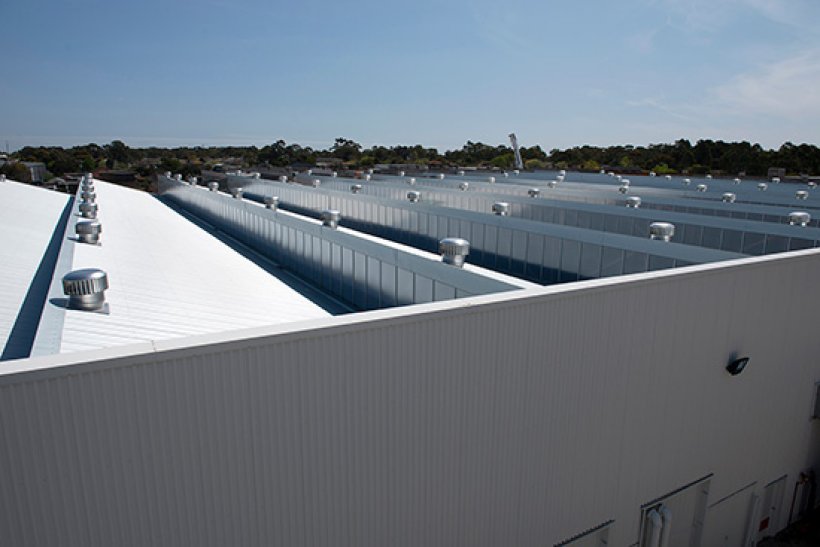 An old sawtooth roof warehouse received a much needed facelift with Revolution Roofing True Oak™ 'SUPER 5' 35mm.
An old sawtooth roof warehouse received a much needed facelift with Revolution Roofing True Oak™ SUPER 5 on the roof and walls. The roofline is very impressive and the large True Oak™ SUPER 5 offers a strong profile that is proportional with this style of building.
Originally clad with deep six asbestos roofing, True Oak™ SUPER 5 is a great product replacement. The roof is finished with custom made ridge, box gutters and associated flashings all in a ZINCALUME® steel finish.
True Oak™ SUPER 5 has been used to clad the walls in the COLORBOND® steel colour Surfmist®. Like the roof, it enhances the restoration of the building and provides a superior strength corrugated profile.
Rows of thin, short corrugated sheeting, lifting and peeling back from a wall are a common sight in any industrial precinct as across Australia, commercial and industrial buildings were constructed last century using cheap, fencing-grade corrugated steel mainly because that was all that was available.
When you're re-roofing and re-cladding a 12,000 square-metre, classic sawtooth warehouse, strength, durability and cost are among the chief concerns when choosing the right material.
True Oak™ SUPER 5 35mm in ZINCALUME® steel for roofing and COLORBOND® steel in the colour Surfmist® for cladding ticked the boxes for Kevin Webb, general manager of construction firm Coombsbarei Constructions.
"Standard corrugated iron is just not going to deliver the required result," explains Webb.
"It's strength is the real benefit. It's good you can have a product you can walk on. Most people can't afford walking platforms on their roofs.
"Some people like to use roof tiles but if you see what happens after a hail storm, especially if you're in Sydney, that's a nightmare clearing up a tile roof."
Coombsbarei's design-construct project was a large warehouse at Underdale, in Adelaide's west.
The sensitive project involved asbestos removal and a multi-stage works, scheduled around the clients' operations and workforce.
The contract started with asbestos removal and roof replacement and gradually more and more of the warehouse's cladding is being replaced with Revolution Roofing's True Oak..
"The COLORBOND® steel cladding is where you really see the benefits of the product," Webb says.
"Yes, there's the architectural spin of the effects of the light rolling off the profile of the deeper TRUE OAK™ sheeting.
"But for me, the deeper profile represents strength.
"Revolution Roofing have put the strength back into what was pretty basic product and kept it competitively priced.
"I've know the team at Revolution Roofing for many years, and they just do it well."