Used in this project
Products

Materials

Colours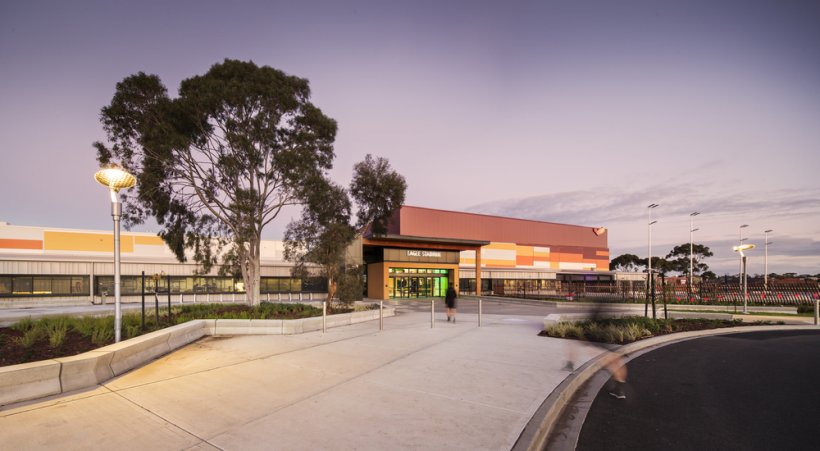 Kingspan Insulated Panels' Trapezoidal Roof and Micro-Rib panels have been used to construct a landmark sporting venue in Werribee, Victoria.
"The Kingspan façade has enabled the council to create a local icon, which was a key design deliverable for the project.The clean lines and distinct colours are visually strong enough to let the Stadium be a landmark in its own right, without the need for significant signage"

Gray Barton, Director
Williams Ross Architects
The Project
Kingspan Insulated Panels' roofing and walling systems have been used to construct a landmark sporting venue in Werribee, Victoria. A multi-coloured façade has been created as part of the $47 million re-development of the 15,000 square metre Eagle Stadium in Werribee, which is the largest indoor sporting court facility in Melbourne's West.
Incorporating Form and Function
Using more than 15,000 metres of Trapezoidal Roof panels and almost 7,000 metres from the Kingspan range of Architectural Wall Panels, ten different colours were used to construct a roofing and walling system that maximised interior and street appeal across the site's new and existing buildings.
Delivering a thermally efficient environment
A building the size of Eagle Stadium has several thermal zones with varying mechanical and ventilation strategies – from fully air-conditioned spaces, to indirect evaporative cooled spaces, to space with natural cross ventilation. The Kingspan wall and roof panels provided a fully integrated solution that enclosed all areas with a thermal inertia, suitable for each of the different ventilated spaces. This was critical to building a facility that is able to hold an internal temperature for longer, with less energy or air change required, to maintain a suitable indoor sports environment.
360° Service and Support
The Kingspan team demonstrated a strong understanding of the product's physical properties and detailed material junctions, helping Williams Ross to make the most of the panels' application – from the overall façade scale across 200 metres to the smallest of material junctions to seal the building enclosure. The Kingspan team attended regular site inspections to ensure the panels were being installed to specification, delivering on the sustainable design principles laid out by Williams Ross.