Used in this project
Products

Materials

Colours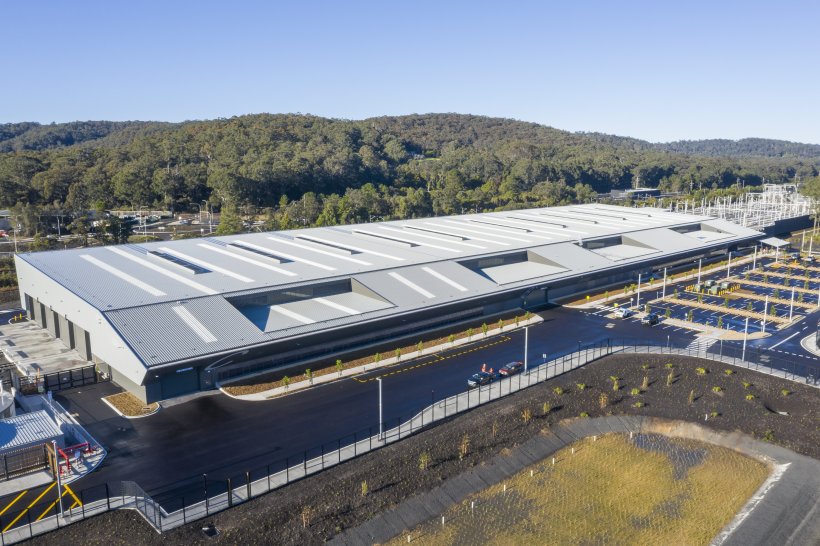 Kingspan supplied Trapezoidal Roof (KS1000 RW) and Architectural Wall Panels (KS1000 AWP) made from COLORBOND® steel to the new Intercity Fleet Maintenance Facility at Kangy Angy, New South Wales. Situated near a residential area within native bushland, the facility required a sensitive design with particular attention given to acoustic and thermal performance.
The detailed design and construction of the new facility was delivered by John Holland on behalf of Transport for NSW. The facility has been constructed as a state-of-the-art, purpose-built centre to service and maintain the new Intercity Fleet (Mariyung Fleet) of trains and includes a highly insulated and naturally ventilated fleet maintenance building, auxiliary workshops, material storage, administration, training rooms and associated amenities. 
Sydney-based firm, Architectus, provided architectural design services for the project. The aim of the design was to connect to the landscape while providing a functional internal space for the employees to work effectively. The design needed to visually contain the facility, reducing the impact to surrounding residents within a rehabilitated natural setting.

Architectus was briefed to create a cost-effective design that could still meet all DA requirements and deliver long-term sustainability outcomes. To address this challenge, Architectus needed a structural product that would insulate and deliver a continuous thermal envelope, whilst ensuring the building did not impede the view of surrounding residents. Liam Fitzgerald, associate at Architectus, had previous experience with Kingspan Insulated Panels and was aware of the product capabilities for design flexibility, thermal and acoustic performance as well as the benefits of building with insulated panels rather than a built-up system.
"For this 24-hour facility, set in the bush with close residential neighbours, we needed a structurally sound product that met strict DA requirements. Having used Kingspan products before, I knew that their systems would reduce the overall size of the structure. These buildings were tall and required a subframe and we wanted to minimise the gap between structural supports," said Fitzgerald.
 
The facility structure is comprised of Trapezoidal Roof Wall (KS1000 RW) on the roof and Architectural Wall Panels (KS1000 AWP) on the walls. "We had acoustic and thermal requirements to meet and we wanted to have a cohesive façade envelope with no gaps, which is hard to achieve with a traditional built-up system, but easy when you have the same product butted up to each other. Acoustic testing of the facility achieved outstanding results of 26db" commented Fitzgerald.
 
The facility includes seven individual buildings, each of varying sizes, so it was important to create a sense of cohesion across the site. "We wanted the buildings to share a common language. Using Kingspan panels enabled us to achieve this easily as the material and colour of each building is the same. The neutral texture and palette of the Kingspan products (made from COLORBOND® steel Shale Grey™, Monument® and Windspray®, all in a Classic finish) also worked towards our aim of having the facility blend into the natural landscape," noted Fitzgerald.
Kingspan's Membrane Lined Insulated Gutter was also used, due to its ability to integrate with the panels, to give the buildings a clean and uninterrupted aesthetic. The gutter also comes as a single component in customised lengths, which helps with fast and efficient installation.
 
All Kingspan products were installed by commercial roofing specialist, Red 8 Roofing, who worked closely with Kingspan to ensure all products were delivered on schedule.
 
"Supply and delivery of the products for this project were outstanding," commented Andrew Blockley, operations manager, Red 8 Roofing. "We had to order all of the products at once which presented a logistical challenge, however, Kingspan ensured all products were delivered on time. There was also a challenge of access to the site, as road access was hindered by a railway bridge with a height of less than three metres. Kingspan was able to coordinate truck loading and a multitude of deliveries to make sure product arrived."

By using Kingspan Insulated Panels, Architectus was able to meet the strict thermal and acoustic requirements for the facility. The design capability of the panel system worked with the facility design to maximise efficiency.