Fielders ARAMAX® FreeSpan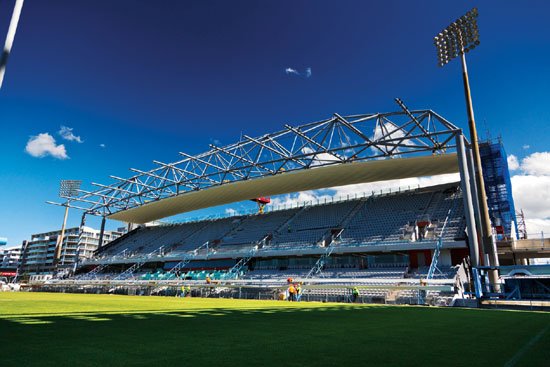 Innovation is all about new ideas – ideas that work. The ARAMAX® FreeSpan structural cladding system meets this criterion perfectly because it is unlike any other. ARAMAX® FreeSpan is bigger, bolder and deeper than conventional steel cladding profiles.
The ARAMAX® FreeSpan roof sheeting allows for huge roofing spans of up to 20 metres with no purlins or girts. This enables the designer to reduce the cost and complexity of the building's secondary structure and ensures there is more space internally. The Fielders ARAMAX® profile serves as a visually stunning and structural component of the structure, reducing costs by up to 30% without compromising performance.
The profile can accommodate individual project requirements by tapering the sheeting along its length to produce spectacular curves and designs. Specialist engineering assistance is available at Fielders to aid in the design of structures utilising the benefit of ARAMAX® FreeSpan. This versatile structural cladding system has been used on a diverse range of projects including warehousing and bulk storage, factories, sports stadiums, aircraft hangars and shelters. Some of the latest Fielders ARAMAX® projects include the multi purpose WIN Stadium in Wollongong, NSW and the unique Aranui Community Library in Christchurch.
ARAMAX® is manufactured in a standard 800mm cover width, with 700mm to 900mm cover widths available upon request.