Durable Performance of COLORBOND® steel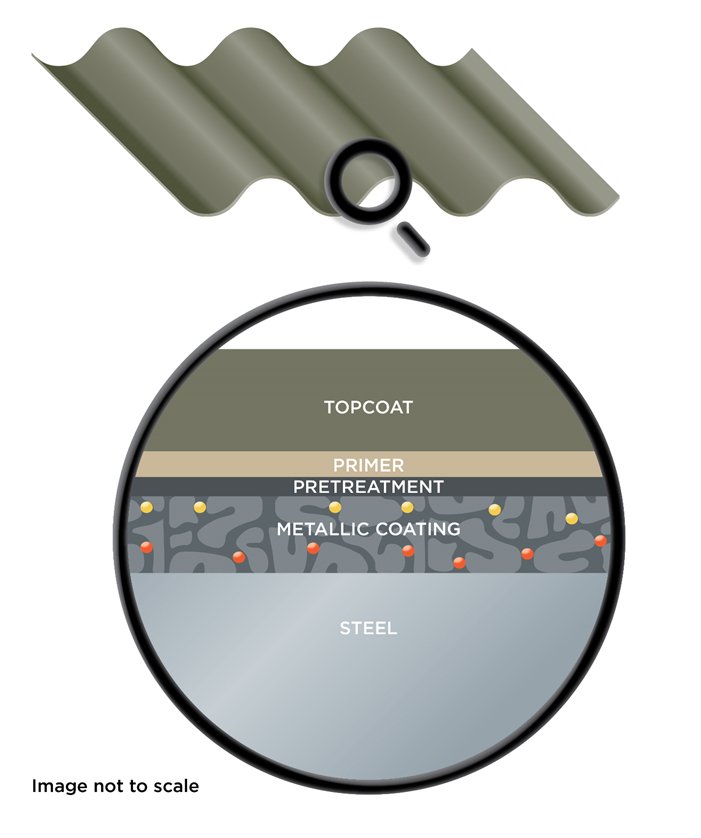 BlueScope constantly works, in collaboration with key suppliers, to develop industry leading coatings for COLORBOND® steel, the combination of which is exclusive to BlueScope and contains proprietary intellectual property.
Through its longstanding outdoor exposure and accelerated laboratory testing program designed to replicate some of the harshest Australian conditions and built environments, BlueScope understands the detailed physical and chemical mechanisms of protective steel coating systems in these challenging environments, and continually innovates for improved durability and performance.
5 Layers of Protection
The steel base is manufactured to meet relevant Australian Standards, ensuring strict adherence to the required grade and strength
The high-quality steel is then coated in BlueScope's industry leading metallic coating incorporating Activate® technology1, to provide enhanced corrosion resistance
A thin pre-treatment layer is applied to optimise the adhesion of further coatings
A corrosion inhibitive primer is baked onto the surface
A topcoat of specially developed, exterior grade paint is then baked on to ensure the finish retains its look for longer.
What is Activate® Technology?
Activate® technology is BlueScope's industry leading metallic coating technology, to provide enhanced corrosion resistance1.
The unique composition and microstructure of the aluminium/zinc/magnesium alloy coating (AM) was developed for improved corrosion resistance compared to aluminium/zinc alloy coating (AZ), and acts in three ways: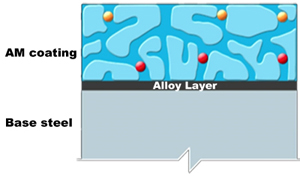 Magnesium, aluminium and zinc compounds are strategically positioned in the coating to provide sacrificial protection
Magnesium compounds encourage the formation of a more robust barrier, slowing the rate of subsequent corrosion
Magnesium compounds also 'activate' the metal coating resulting in more effective, longer-lasting sacrificial protection
What is Thermatech® Solar Reflectance technology?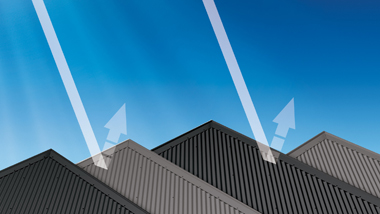 COLORBOND® steel's core colour range in the Classic and Matt finish (excluding Night Sky®), as well as the core colours in the COLORBOND® Ultra steel range, features BlueScope's scientifically designed Thermatech® solar reflectance technology.
Thermatech® solar reflectance technology increases the solar reflectance properties of COLORBOND® steel and helps keep buildings cooler in the daytime. It reflects more of the sun's heat on hot, sunny days which may help reduce dependence on air-conditioning2. Using less energy to cool buildings can help occupants save money on energy costs.
Dark colours are generally hot when exposed to the sun as they absorb most of the sun's visible energy. However, they can be made considerably cooler if they also reflect away the sun's non-visible energy in the near infrared spectrum, which accounts for about half of the sun's energy that heats a surface.
COLORBOND's Thermatech® technology uses this principle. Each colour in COLORBOND® steel's core roofing and walling colour range - including the darker colours - with the exception of Night Sky® - is designed to reflect the sun's non-visible spectrum to help keep it cooler, while still maintaining the COLORBOND® steel qualities that customers' value