BlueScope republishes Technical Bulletins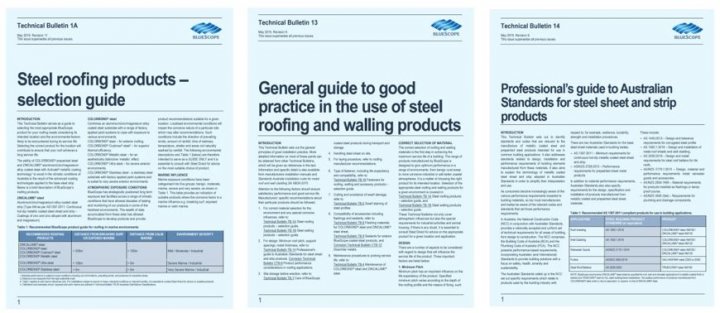 BlueScope Technical Bulletins (TB's) guide industry professionals on issues concerning the application and usage of BlueScope products including COLORBOND® steel, ZINCALUME® steel, TRUECORE® steel, DECKFORM® steel, GALVASPAN® steel, COLORBOND® Intramax® steel, ZINC HI-TEN® steel and REDCOR® weathering steel.
BlueScope has recently republished the comprehensive suite of Technical Bulletins with updated content and in a fresh new style.
All the Technical Bulletins have undergone review by BlueScope technical specialists and if you're familiar with the detail and content of the Bulletins, you might notice a few wording changes. The changes have been made to bring them up to date with the latest knowledge and align with the recently updated National Construction Code (NCC 2019).
The full suite of Technical Bulletins can be found here on STEEL SELECT®. We recommend you always visit the website to ensure you're working with the latest version.  It's also a good idea to throw away any old paper copies and delete any personal electronic copies of the old versions.
If you have any questions, please contact your local BlueScope representative or BlueScope Steel Direct for more information.